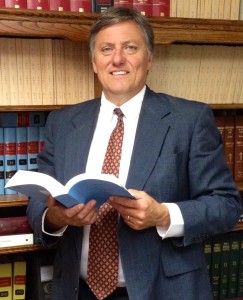 Mark Sevart is a dedicated professional who strives to be versed in the law and thoroughly familiar with the specific and unique facts of your legal dispute.
He has handled a variety of issues in most major areas of the law. His extensive courtroom experience makes him the logical choice to be your legal representative.
He has participated in hundreds of Jury Trials, evidentiary court proceedings, depositions, and administrative law tribunal hearings.
His Education Includes:
– Bachelor of Science in Mechanical Engineering – Wichita State University 1982
– Juris Doctor with Honors – Washburn University 1985
Research Editor & Published Author – Washburn Law Journal
His Professional Law Experience Includes:
– Assistant District Attorney – 1985 – 1990
18th Judicial District Wichita, Sedgwick County, Kansas
– Private Practice of Law – 1990- 1997
Wichita, Kansas
– Private Practice of Law– 1997 – present
Derby, Kansas